Medical Affairs for Healthcare, Pharma, Medical Devices
Our medical affairs experts have a high level of expertise in evidence-based medicine, which we are happy to make available to you. As a medical advisor, you can use our expertise in creating slide decks, study summaries or accompanying advisory board meetings.
Increased requirements with regard to compliance and codex conformity have led to the necessity for product claims to be medically correct and scientifically substantiated. This makes it all the more important to have an agency partner whose medical-scientific expertise and conscientious approach you can rely on. We are happy to join forces to support you in all phases of the product launch.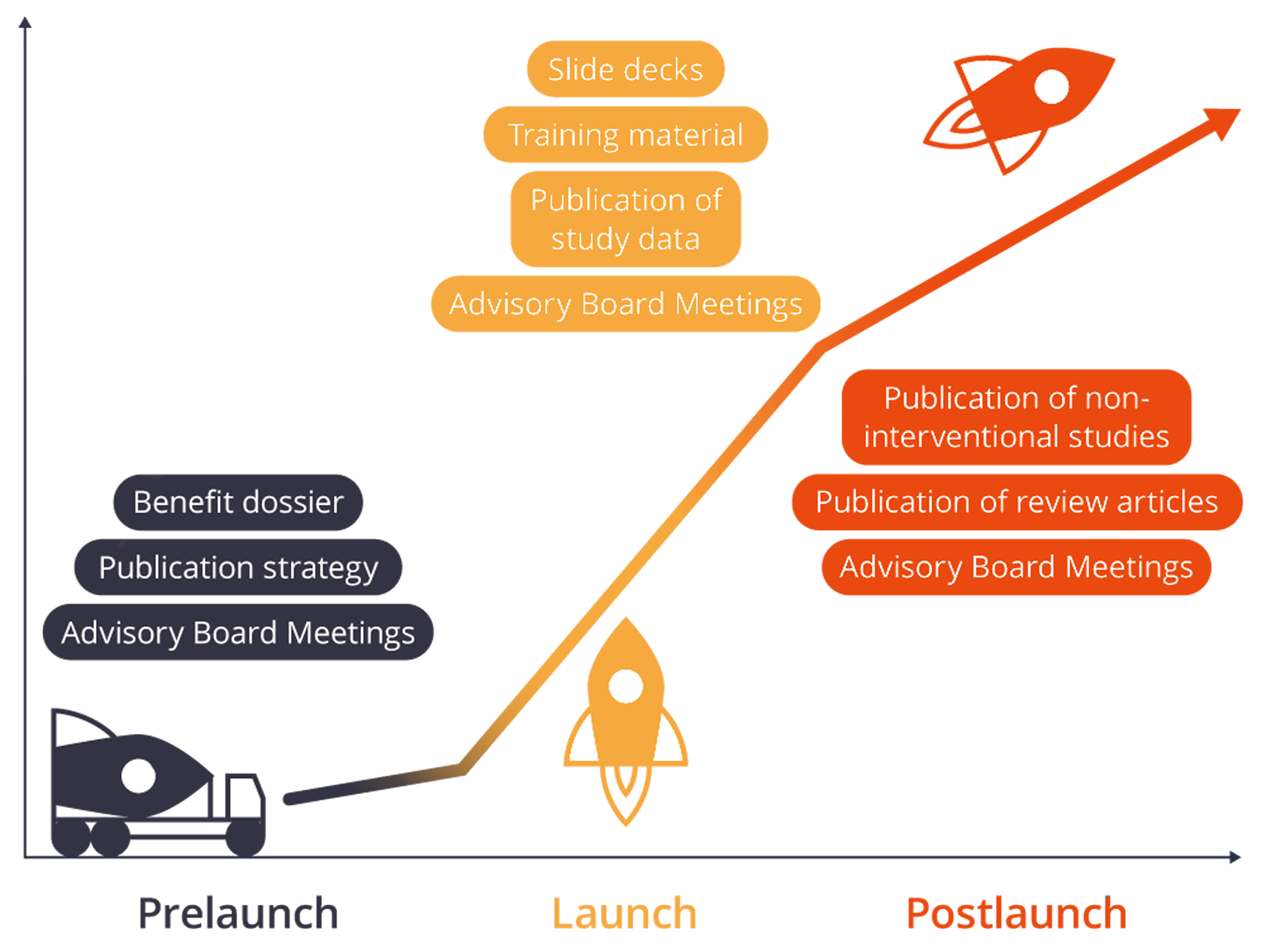 Pre-Launch
During the pre-launch, it is important to create positive expectations for the new product. Close cooperation with opinion leaders is particularly important at this stage. A well-timed publication strategy ensures that study data are published in good time. Medical Affairs is often also significantly involved in the development of the benefit dossier. Let us support you effectively in these diverse and challenging tasks.
Our Services:
Generate knowledge: Organization, moderation and minuting of advisory board meetings
With vision: Development of a publication strategy
Your added benefit: We support you in the preparation of German AMNOG benefit dossiers
Launch
The most important goal in the launch phase: It must be absolutely clear to the physicians how your product is used and what significance it has in patient care. For this purpose, new data must be constantly presented at congresses and physicians' questions about the product must be answered. Convincing materials and slide decks are a great help. In the launch phase, the pivotal studies are often also published. In addition, the sales force must be trained to become familiar with the new product.
Our Services:
In a nutshell: Development of slide decks
Good news: Publication of study data, preparation of study summaries, etc.
Especially for the field service: Training documents
Post-Launch
In the post-launch phase, your product has penetrated the market. New users and increasingly also patients will address new questions about the product to you, which must be answered promptly. The publication of reviews and non-interventional studies helps your product to remain present and to position it against products of competitors.
Our Services:
Evidence-based and precise: Research on medical and scientific issues
To make your product memorable: Publication of review articles
Straight from practice: Publication of non-interventional studies (NIS)